Around 200 people braved the wind and rain of Storm Babet on Thursday 19th October to attend a Bridgwater Town Deal information event at the Town Hall Theatre.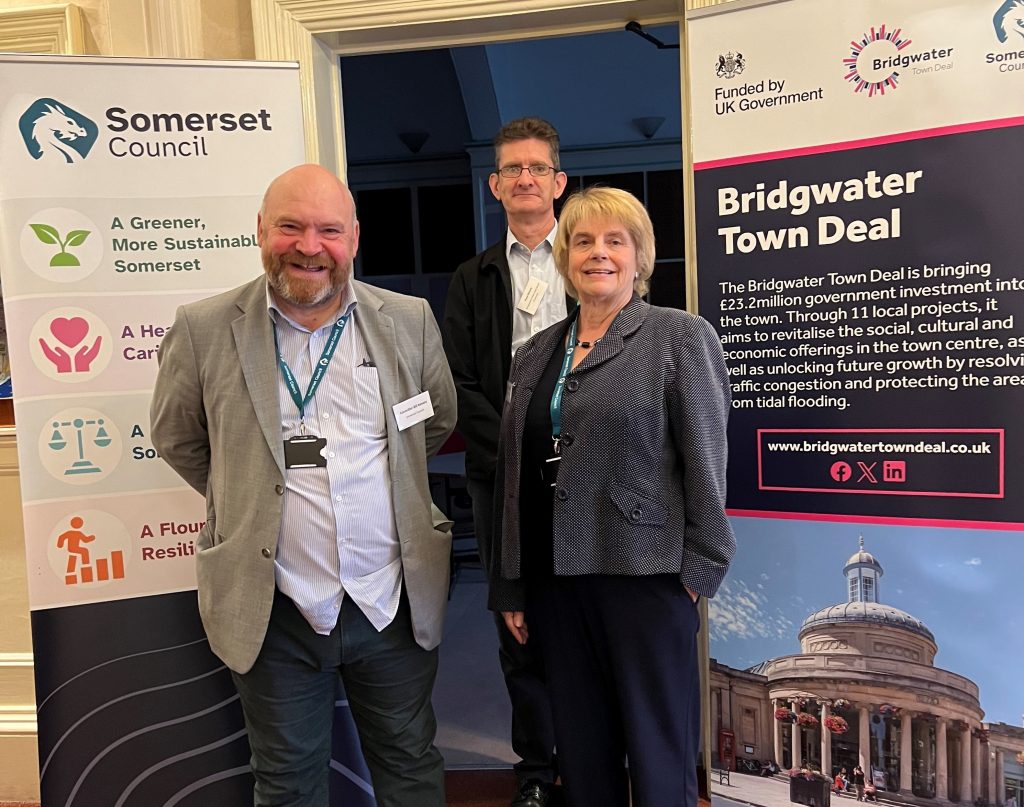 Organised by Somerset Council, the event provided an opportunity for local residents and businesses to find out about the projects, opportunities and benefits that the £23.2million Town Deal investment will bring for Bridgwater.
All eleven Town Deal projects were represented, sharing details about their plans, answering any questions about them, and gathering feedback from the local community.
Paul Moore, Chairman of the Bridgwater Town Deal Board, said: "It's been incredible to see the number of people who have turned up today – people of all ages who have come in to have a look, find out what's going on, and grasp the scale of what we're doing. It's also really exciting to finally see all of the projects 'out of the box'. We've been dealing with and focusing on the minutiae of these plans for such a long time now, so to see the people behind the projects, the photographs, the banners – to see it all unpacked – is even more exciting than I thought it was going to be!"
Cllr Bill Revans, Leader of Somerset Council, said: "The attendance at this event has been phenomenal, with so many people coming in wanting to find out more and have positive conversations about the projects. It's also been great to see all of the partners coming together, networking and supporting each other, because these are projects that have to be delivered in partnership, they can't be done in isolation. Getting everyone together in a room to showcase what we're doing and find ways that we can do it even better, that's what is going to make the outcome of the Bridgwater Town Deal even more exciting than it is already."
Bridgwater was chosen as one of 101 towns that would receive investment through the government's Towns Fund scheme as part of its Levelling Up programme. The £23.2million government funding aims to 'level up' the area and create a vibrant and welcoming town centre. This will be achieved by revitalising the social, cultural and economic offerings in town centre, as well as unlocking future growth by resolving traffic congestion and protecting the area from tidal flooding.