Bridgwater Town Deal Board and Somerset Council announce the launch of their Bridgwater Events small grants programme.
Bridgwater has long been known for its incredible events such as Carnival and Bridgwater Fair. With areas such as Northgate, Brewery Field and the planned redevelopments, the town has never been better placed to invite residents and visitors back to its streets for both entertainment and culture.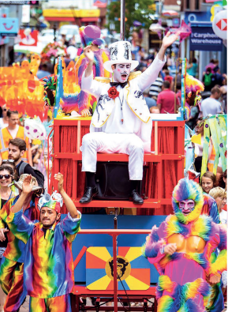 As part of Somerset Council's Town Deal funding from Government to regenerate Bridgwater town centre, funding has been allocated for a small grant programme to create new and exciting events in Bridgwater.
Grants are available from £500 and where an event shows unique creativity up to £10,000 to support organisations in their delivery of new events and activities that will draw people to the Town Centre and re-energise the town.
Cllr Ros Wyke, Somerset Council's Lead Member for Prosperity, Assets and Development, said: "We are expecting a great deal of interest in these grants as there are many passionate and successful event planners across the town, but we also want to encourage new organisers. The aim is to animate the new and old spaces across Bridgwater in innovative ways; to encourage people into the town whether they be locals or visitors.
"Increasing visitor numbers and the time they spend in the town centre, whilst also diversifying the town centre offer and improving our arts, heritage and cultural assets will also give the community a sense of pride in the new places and view old spaces differently."
Do you have an idea for an event in Bridgwater? Do you want to be a part of breathing life into the spaces of Bridgwater? Could you create something special in the heart of Bridgwater itself? For more information follow this link https://bit.ly/42sTuWI
Press release issued by Bridgwater Town Council